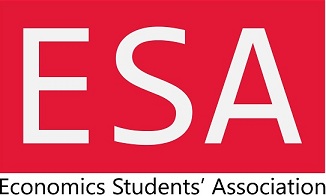 The Economics Students' Association provides a platform for academic, social, and career-related support for students pursuing the various streams of economics at York University. Our mission is to help our members become well-rounded professionals by complementing the economics curriculum. Through our operations, we provide an expansive experience for our members.

Get in touch with us either via email, esayorkuca@gmail.com, or visit our website, yorkuesa.ca.
Executives
Fahad Nisar Rana
President
Going into his 4th year at York University as an Honours Economics major, Fahad comes from a strong leadership background. He completed his Competent Communicator Certificate from Toastmasters International, was President of a Toastmasters-affiliated club and has won many awards in the field of public speaking and presenting on numerous occasions. With his leadership and communication skills, he hopes to collaborate with people both formally and informally, academically and socially to improve the experience of Economics students across York. Fahad aspires to get into banking, while managing his personal investment portfolio. He likes to swim and play basketball and his interests include public speaking, exploring new places, analyzing and discussing financial markets, watching The Walking Dead, Mad Men or The Last Ship. Fahad has been working part-time with York's Internal Audit department and also held the office of Vice President of Finance last year. He will lead the ESA as President and hopes to make the newly-formed ESA an everlasting legacy that will continue to serve students of Economics for many years to come by making studying Economics more interesting and interactive by exploring new avenues to advance ourselves academically, socially and in our careers. Fahad looks forward to an eventful year with big opportunities to learn, share knowledge, network and socialize together.
Kamran Yusifov
Vice President of Financial Affairs
A passionate student of economics and finance, Kamran has truly found his place in the Economics Students' Association. Not only a brilliant student, he has built a reputation of putting money where his mouth is. Trading derivatives since the age of 16, his real-world experience of handling complex financial instruments gives him a unique and mature perspective of financial affairs. In addition to his technical expertise, Kamran possesses the qualities of a talented salesman. Articulate and charismatic, he has demonstrated a proficiency of influence in his work experience as a sales associate, always knowing what to say to seal the deal. He hopes to pass on his knowledge and experience to incoming students and use his abilities to build and maintain close relationships with influential individuals in the fields of economics and finance to enhance the experience of all students in the department of economics.
Jesse Wiebe
Vice President of External Affairs
Jesse is proud to have been re-elected to the Executive of the ESA as VP of External Affairs in his final year here at York University. Last year, Jesse worked tirelessly to put on events for the students, in particular the event Economics Matters: From Classroom to Career, and he received our award for Top Executive of the Year. Jesse is also an active student leader with our college affiliate, Vanier, and within the Faculty of LAPS, where he strives to bring together the greater student community and help make York University a better place to go to school. Jesse is dedicated to enhancing the student experience at York and he is looking forward to meeting you at our events throughout the year.
Wangeci
VP of Internal Affairs
In her third year of the Honours Economics program, Wangeci is a newly elected executive in the ESA as VP of Internal Affairs. She is dedicated and hard working, helping drive events for better student involvement like the Professor Research Seminars and Study Sessions. She is also involved with the LAPS Faculty Board as a Student Representative helping bring student interests and issues to the forefront. Having previously worked with several faculties like McLaughlin and New College, she is now proud to be working with the ESA to drive her passion for a greater and stronger Economics student community at York University.
Daniel Thevarasalingam
Director of Media Affairs
Daniel is a third year Honours Economics student; his love for data and information has lead him to take a keen interest in the fascinating world of econometrics. Outside of economics, Daniel tries to learn all there is about programming languages and software packages designed to manage data, as he believes it is important to be technically sound. Moreover, he loves to take part in thought-provoking conversations in topics including environmental sustainability, financial markets, economics, and software. As the Director of Media Affairs, Daniel wants to creatively and effectively manage the digital appearance of the organization, and engage as many students as possible. Aside from his personal aims for the organization, Daniel sees the overarching objective is to build a stronger community amoung the economics students at York University.
Melden Pereira
Director of Social Affairs
Currently in his 3rd year as a Financial and Business Economics major. He is a passionate individual who stops at nothing to assist his peers. His zealous curiosity with foreign affairs and monetary policies, lead him to pursue economics at the undergraduate level. Aside from economics, Melden dedicates much of his time with Bell Canada's exclusive student team, and uses his creative force to improve special telecommunication infrastructure within the province. He is an early riser and a fast-paced individual who looks to get the most out of his time awake. His ability to interact with diverse personalities has allowed him to build creative relationships and quench his ardent curiosity. He is actively working towards making the ESA an inclusive and collaborative environment, and is always open to any student suggestions. As the Director of Social Affairs, he envisions that the 2016/2017 academic year to be the ESA's strongest one yet, and is counting on his fellow peers to make this vision a reality
Fatima Niane
Chief Returning Officer
Fatima is in her last year in the Honours Economics program. She has been very active on campus being involved with York is U, York U Black Students Alliance, Centre for Women and Trans people, LAPS Student Success Program, Salsa club at York, and York Federation of Students as VP Campaigns and Advocacy Commissioner. She hopes to deepen her knowledge in heterodox economics and pursue a career related to gender economics, public policy and governance. Fatima has sought different opportunities in the financial sector working in insurance and banking as well as in government by interning at the Caribbean Development Bank agency. Aside from economics, Fatima speaks three languages (French, English & Wolof) fluently, and dedicates her spare time improving her Spanish in hopes to be polyglots. As the Chief Returning Officer, Fatima is responsible for ESA's elections and making sure that the constitution of the government body is respected. She will be also launching the first Undergraduate Economics Journal at York University. She believes that the journal will be an ideal platform to make students' voice heard and will encourage healthy debates among peers with respect to research in economics.
Darshana Gosai
First Year Representative
Darshana is a first year Financial and Business Economics student, who has a passion for helping others and making the most of every day. Aside from studying economics, Darshana involves herself in business competitions and in the community to actively make use of her free time. She enjoys learning about financial markets, economic impacts on society and the incorporation of math into economics. She has high hopes that the Economics Students' Association will be helpful to all economics students, including herself. Darshana strives to create life long relationships with likeminded individuals. Moreover, her visions for the ESA is to see students connect, and use the ESA to make an overall stronger and bigger impact on York's Economics students.